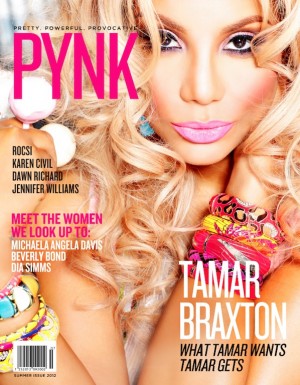 Well this is an interesting look. But like the title says, "What Tamar Wants Tamar Gets". I have a similar mantra myself. Tamar sat down with PYNK to talk about Vince, keeping him happy, and Mary J. Check some excerpts from the magazine below…
Tamar on when she first realized Vince was the one…

"I wasn't checking for Vince at first. He and I were friends. But it wasn't until I found out that he was seeing someone that it hit me.
 I realized I had feelings for him! When he told me that his relationship at the time was coming to an end, I knew it was my time to make my feelings known.After that relationship ended.. he and I started dating and eventually married."

On how she keeps her man happy…

I go to bed the same way I did when we first started sleeping next to each other- CUTE!
Ladies, I do NOT go to sleep with rollers or a scarf on my head! My face is not completely beat with make-up but it's not bare either.

On her desire to start a family …

I realized I wanted to have a child when Vince was sick in the hospital. I love him SO much and it was such a hard time for me. He is my rock.

I was extremely nervous the entire time and I thought if I lost him tomorrow all I would have are photos. And I realized that I wanted more than that.

A child would be a living reminder of our love.

On her relationship with Mary J…

My sisters are my best friends for the most part but I'm also very close to Mary J Blige. When Vince was in the hosptial she was so supportive. Mary and Kendu are the best. They made sure to check in on me and prayed with me for Vince's recovery.Mary is such a genuine and kind hearted person I'm blessed to be able to call her a real friend… Not an "industry friend.
That last picture is "Tamar". But this sounds like a good read. Make sure to pick it up this July!